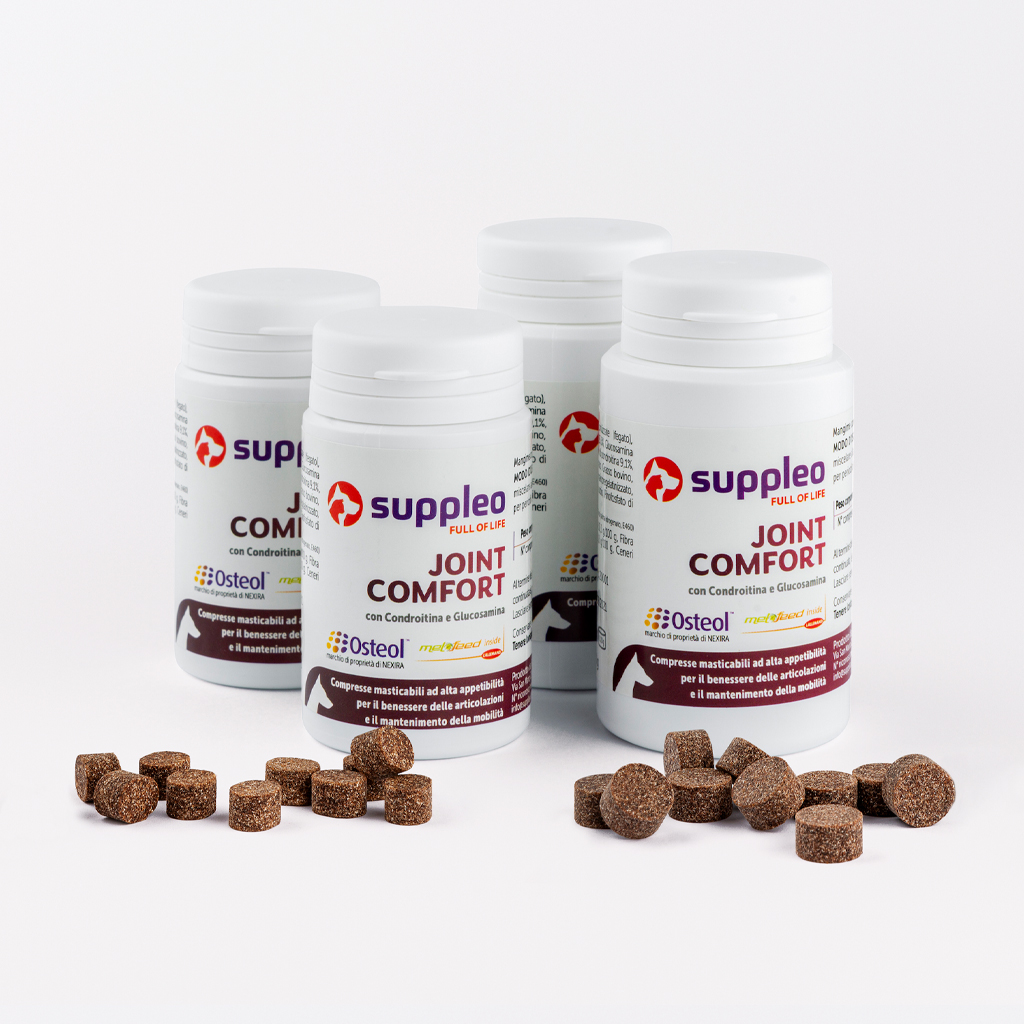 Highly-palatable chewable tablets to promote joint health and mobility.
This complementary feed is available in various formats:
0.55 g format for small dogs (30 or 60 tablets).
1.10 g format for medium to large-sized dogs (30 or 60 tablets).
Read the label for administration information.
30-tablet container = €25
60-tablet container = €42.50
COMPOSITION: Hydrolysed Animal Protein (Beef), OSTEOL™ (13.6%) [Milk Protein Powder], Animal
Fibre-Derived Glucosamine (13.6%), Glycerine, Chondroitin Sulphate (9.1%), Corn Starch, Hydrogenated Palm Oil, Tallow, Maltodextrin, Bovine Gelatine, Pregelatinized Corn Starch,
MELOFEED®* (0.91%), Yeast, Sodium Chloride, Sodium Pyrophosphate, Rapeseed Oil.
*(Products obtained from melon processing, hydrogenated palm oil, E460)
ANALYTICAL COMPONENTS (per 100 g):
Protein (30.3 g), Crude Fibre (1.9 g), Crude Oils and Fats (11.8 g), Crude Ash (10.0 g).
INSTRUCTIONS FOR USE: Administer directly or mix with the daily food ration for 60-90 days (please read the label). Once this period of continued administration ends, you can stop administering the product for 30-60 days.
Always leave fresh water available.
Suppleo Immune System
Also contains:
Glucosamine and chondroitin which help maintain cartilage and connective tissue health, improve joint mobility and lubrication, and reduce the effects of physiological wear, thus resulting in less joint pain which in turn, ensures a better quality of life for our four-legged friends.
Osteol®: a Nexira-developed ingredient consisting of bioactive milk proteins which boasts a booster effect to increase the efficiency of the joint care formula, whilst reducing the dose of chondroitin and glucosamine.
Melofeed®: 100% natural melon juice concentrate, rich in superoxide dismutase (SOD) and catalase; both of which are primary enzymes of the antioxidant defence system. They help limit the damage caused by the formation of free radicals during excessive physical exertion, inflammatory processes or oxidative stress.